Solar Water Heaters General Information
Pure Energy Solar Water Heaters will heat water virtually FREE. They will heat water for most of the year and will continue to do so for many decades with virtually no running costs. Solar Water Heaters can potentially heat water to 80ºC and above.
Solar Power in Ireland – not a myth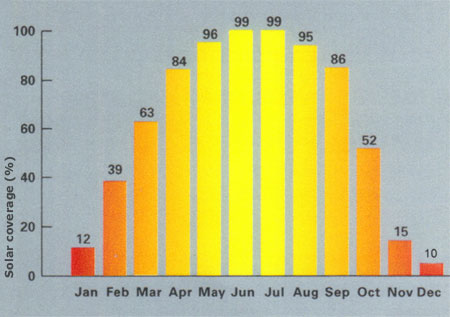 Ireland's solar climate is as good as Paris and 70% of the solar climate on the Mediterranean coast. In Ireland a horizontal surface of 1m2 receives an average of approximately 1100 Kilowatt-hours (kWh) of solar energy per year (the equivalent of 120 litres of oil)
Solar energy in Ireland is provided by both direct sunlight (40%) and indirect sunlight (60%). So, even when the sky is overcast, its radiation (sunlight) is available at ground level and can be converted into useful heat by a solar water heater.
A 6m² Flat Plate Solar Water Heater installations in Ireland could possibly provide the energy equivalent of a 3KW immersion heater running for almost 2.5 hours on average, every day, 365 days per year.
Types of Solar Water Heaters for use in the Irish Climate
There are two main types of solar water heaters available:
(i) Flat plate collectors. These collectors are the most cost effective and provide the best return on investment. The appearance is not unlike that of a large roof mounted Velux window. Read more
(ii) Vacuum tube's (also known as Evacuated Tubes) collectors. These collectors are advantageous where space is limited, where you don't have a south facing roof or where higher performance is required in overcast conditions. Read more
Components of a Solar Water Heating System
Regardless of the Collector choice the rest of the system is common to both. The Panels are connected back though a pumping station and onto a specially designed cylinder (link here to solar cylinder)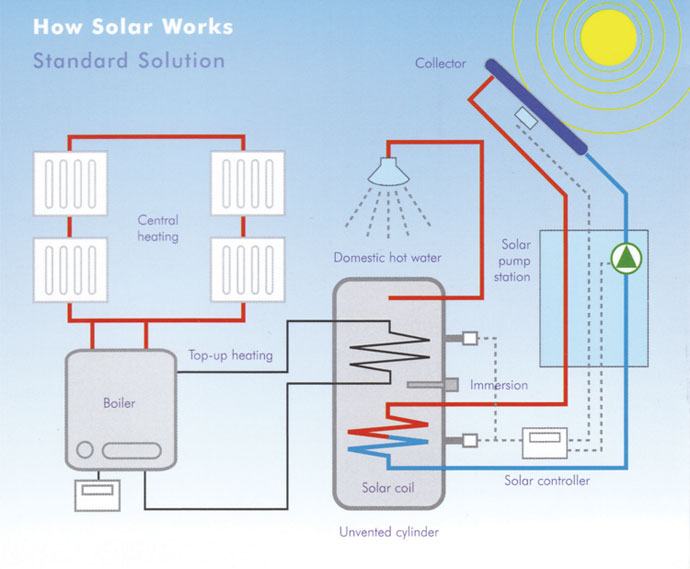 Pumping Stations
The solar panels heat the water, the pumping station moves the heat into your hot water cylinder. Pure Energy specify top quality German pumping stations featuring "Grundfos" solar pumps. "Grundfos" is widely recognized as the world leader for quality and reliability in circulation pumps. It is critical that the solar system has a reliable pump as the pump is the only moving part in a solar system.
PURE pumping stations contain the following:
GRUNDFOS High reliability, Variable-Speed Pumps
Flow Meter
Insulation
Pressure Gauge
Pressure Release Valve
Non Return valve
Isolation Valves
Flush points (2)
Air Seperator (High end models)
Second Non Return valve(High end models)
Solar Controllers
The solar controller is the 'brains' of the solar system. It is important that the controller is high quality in order to extract the maximum amount of energy from the solar panels to the hot water system. Pure Energy have sourced a selection of advanced controllers which control the pumping station.
PURE Solar Controllers feature the following:
Easy to Operate- Only 3 buttons
Large easy to read display
Fit and forget, once fitted the controllers need no input from the user
Also available as options are:
Variable pump speed (varies the speed of the solar pump to maximize performance on dull days)
Solar Optimiser (A clever program that brings on the pump at different time intervals based on the rate of heating of the collector to ensure that no energy is lost out on overcast days)
Cylinders (Hot water storage)
Solar heating systems require a special type of hot water cylinder. This cylinder typically has two coils. The existing heating system is plumbed to top coil ( See schematic diagram Above) and the solar is connected to the bottom coil. Please see our cylinders page for further information on these
Find our more reasons to invest in Solar Energy Products in Ireland